Dr. Tejinder Bhatti – Top Plastic Surgeon in Chandigarh
DR. Tejinder Bhatti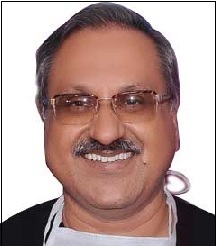 Plastic Surgeon, MS, MCh
Years of Experience: 20+
Address: Darling Buds Hair Transplant Clinic East Wing, 3rd floor, 5 Rivers Wellness Clinics Pearl City, Sector 104, Mohali, Chandigarh 140307
Chandigarh India.
Specializations:
ABOUT DR. Tejinder Bhatti
Dr. Tejinder Bhatti is a globally-recognized hair transplant surgeon with immense experience in the novel techniques of hair restoration. He has trained from several renowned hair transplantation centers in Detroit, Kentucky, London and Denver. He is the first-ever surgeon in India to open an FUE-only clinic in Chandigarh. He has more than 20 years of experience as a hair transplant surgeon and has worked with many Indian celebrities and international patients.

Dr. Bhatti was featured as one of the 'World's Top 20 Hair Transplant Surgeons' in 2017. He is one of the pioneers in the field of hair transplantation in India. He has contributed immensely to including advanced surgical techniques.

Dr. Bhatti is a firm believer that one hairline design doesn't fit all. He customizes the hair transplant surgery using cutting-edge techniques to create a hairline that looks fuller and entirely natural according to the individual's facial features.
Memberships:
Dr. Tejinder Bhatti is a member of numerous national and international associations for plastic and cosmetic surgeons:
International Society of Hair Restoration Surgeons
Asian Association of Hair Restoration Surgeons Indian Association of Aesthetic Plastic Surgeons
International College of Surgeons
International Society of Hair Restoration Surgery
International Medical Sciences Academy
International College of Cosmetic Surgery Indian Medical Association
Association of Surgeons of India
Indian Association of Hair Restoration Surgeons
Indian Association of Aesthetic Plastic Surgeons