What is Neck Lift or Lower Rhytidectomy?
When it comes to overall youthful enhancement through plastic surgery, the neck may appear to be a little insignificant in comparison to other body parts. However, the neck is a most certain give away and if improved upon, adds to our outer look and youthfulness. Nowadays, people have started recognizing its importance and are opting for neck lift procedure in large numbers.

If you are also planning to go under the cosmetic surgeon's knife to improve the way your neckline appears, then neck lift can be a good option. The reason – it is one of the most trusted and effective cosmetic surgery options available for reducing aging signs of sagging skin.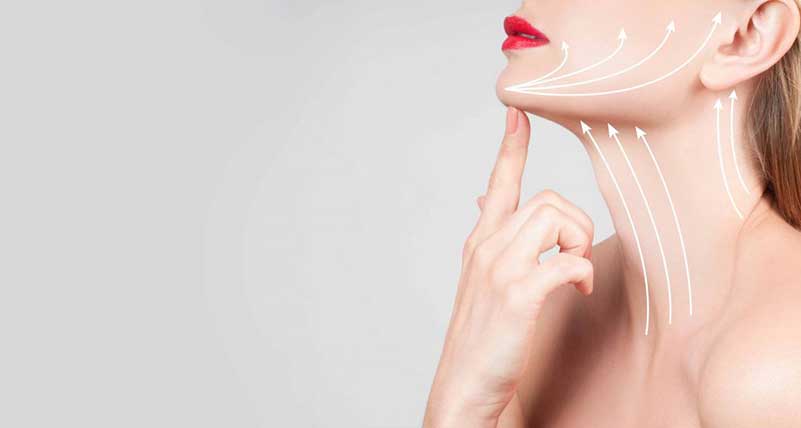 Why people go for a neck lift?
Usually people face loss in youthful contours of face and neckline due to various factors. These reasons may vary from environmental conditions to stress, gravity to heredity and much more. Notably, neckline plays an important role in a person's overall look. Therefore, when people come across neck problems that deteriorate the shape of their overall youthful facial proifile, they prefer going for neck lift or lower rhytidectomy.

In some cases, people feel that they do not need a full facelift or they are not ready for doing so simply because the specific area of their face is pleasing in itself. However, they want to get rid of excessive wrinkles on their neckline or a double chin (which is commonly called a turkey wattle). So, they prefer Neck lift and a lower rhytidectomy is a recommended treatment in this regard, as it gives a contoured face. If you also notice that your neckline is not matching the appearance of your upper face, you can go for this procedure.
What does neck lift cure?
A neck lift or lower rhytidectomy can treat the following conditions:
• Loose skin on the neckline
• Extra fat under the chin
• Abnormal contours caused due to muscle banding

Find a Plastic Surgeon in Your Area
What you should not expect from a neck lift?
Opting for lower rhytidectomy cannot bring changes to your original look neither it can control your ageing. It is in fact a surgical process and there will always be differences in the results of a neck lift and nonsurgical rejuvenation.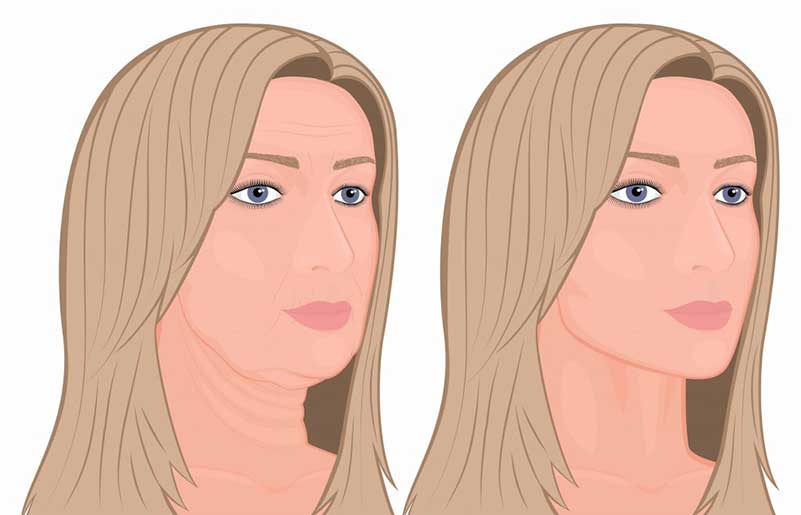 Are you the right person to get a neck lift?
The eligibility of being an ideal candidate for a neck lift is not too tough to achieve. If you are aspiring to undergo treatment, you should simply adhere to the following prerequisites:
• No smoking: You should be a non-smoker or at least quit smoking at least 2 weeks before the surgery. This is because smoking comes with a set of drawbacks, is bad for healing after procedures and can cause complications to health.

• Realistic goals: Having positive attitude and knowledge of real results is necessary. A person who expects unrealistic results should better not opt to go for a neck lift.

• Good health: You should have a fit and healthy body. In addition, make sure that you are free from any critical medical condition as it may hamper the process of healing and create further complexities.

What is the cost of neck lift or lower rhytidectomy?
The cost of a neck lift surgery varies from place to place depending upon various other factors. The total cost of the surgery includes multiple expenses such as surgeon's fee, anesthesia, treatment facilities, medicines and tests among other relevant expenses.

The surgeon's fee for a lower rhytidectomy completely depends upon the skills and experience he or she possesses. In addition, the geographical location also plays a crucial role in the overall cost of the surgery.

The costs of neck lift are never too high, however, if you want to make it more affordable through health insurance plans, do a complete research. This is where you should be extra cautious because most of the plans of health insurance do not cover cosmetic surgeries like neck lift.

What are the possible risks of a neck lift surgery?
Just like any other surgical procedure, neck lift surgery too comes with its own pros and cons. Hence, before visiting a surgeon, you must be aware of all the possible consequences, including the benefits and as well as the associated risks. It is wise to decide for neck lift only after careful consideration of what is involved. Here are the common negative consequences of a neck lift:
• Bleeding
• Infection
• Fluid accumulation
• Hair loss and incisions (it can be temporary or permanent)
• Excessive Scarring
• Asymmetrical face
• Weakness of lip due to a nerve injury which is very rare
• Discolored skin
• Numbness
• Changes in skin sensation
• Unsatisfactory results (you may want another surgery in this case)
• Skin irregularities
• Risk of venous thrombosis with pulmonary sequelae (very rare)
• Sutures can surface through your skin
• Excessive long-term swelling
• Poor or slow wound healing
• Constant Pain
• Skin loss

If these remote risks do not cause too much anxiety and you are in safe surgical hands, only then must you consider to get the neck lift or lower rhytidectomy. Usually, it takes few weeks to recover fully. However, in some cases the process of recovery can last for months. Meanwhile, you must protect the affected area from harsh sunrays and any other extraneous element, which can complicate your surgical incisions.

Takeaway
Neck lift or lower rhytidectomy is a surgery that intends to improve your neckline so that you could get a better appearance. People concerned with their looks are more likely to go for this surgery. Hence, if you too are conscious of your appearance and want to go under the knife, neck lift surgery could be a suggested option. For all the related pros and cons, it is good to consult your surgeon and then decide to go ahead.