Blepharoplasty – The Cosmetic Surgery That Enhances The Aesthetic Appeal of Your Eyes
Are you having sagging upper and lower eyelids that make you look older than your age?
Is the area around your lower eyelids generating unwanted skin?
Do you have bags in the portion near your eyes?
Finally, are you facing peripheral vision problems due to your skin hanging around the outer and upper areas of your vision field?
If your answer to all these problems is yes, then Blepharoplasty is the ultimate solution.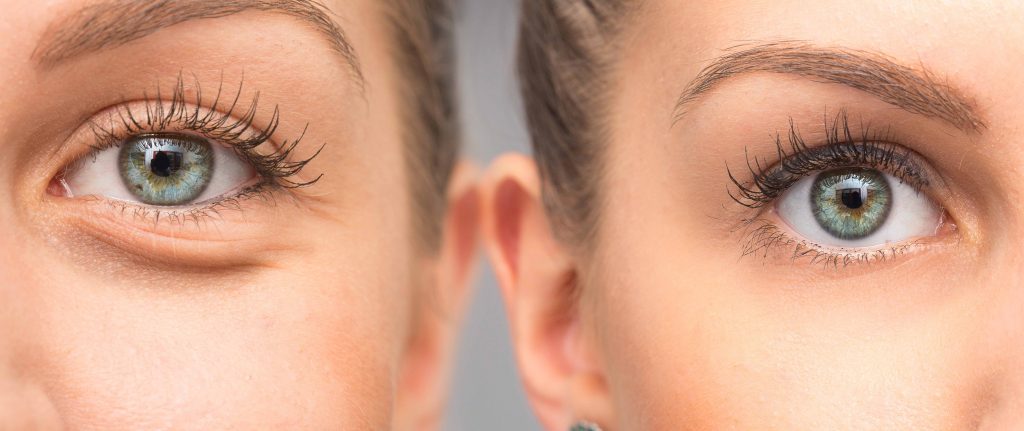 This distinctive surgery is effective in correcting the droopy eyelids. It requires the surgeon to cut excess fat, muscle and skin from the top and bottom areas of your eyelid. People also opt for this cosmetic eyelid surgery to enhance their facial appearance.

The traits of an ideal Blepharoplasty candidate
You should opt for the eyelid surgery if you possess any of the following signs:
• Additional skin that obstructs the natural blink of the upper eyelids
• Dark circles and bags under the eyes
• Sagging eyebrows
• Defective vision due to hanging upper eyelids
• Very small surface on the upper eye area, which stops you from applying makeup
• Your eyes appear tired due to puffy skin of the upper eyelids
Find a Plastic Surgeon in Your Area
Find Top Surgeons in India by Procedure
Find the Cost of a Procedure
Besides looking for all these signs, the experts performing blepharoplasty surgery also consider several other vital aspects before deeming one as the ideal candidate for this surgery. These include:
• Healthy individuals without any medical problem that could affect healing
• Nonsmokers and those with a positive attitude
• People having less severe eye problems and aged 35 years or more
• Individuals who believe in attaining realistic goals instead of expecting miracles.

Do you qualify any of these points and feel the need for upper eyelid surgery, lower lid blepharoplasty or any related procedure? If yes, then here is more info for you.

Getting reading for the eyelid surgery
You need to care for certain important things prior to going under the knife for Blepharoplasty surgery. To start with, you should have initial consultation with your plastic surgeon about:
• Your concerns about the surgery
• The probable outcome of the surgery
• The whereabouts of the surgeon including his expertise and experience
• Before and after surgery photos of his patients
The surgeon will also ask you certain questions related to your eye problem and other aspects, like:
• Any flaw in your existing eye conditions such as dry eyes, allergy, glaucoma, etc.
• Your overall health and medical condition, if any, like diabetes, thyroid, circulatory problems, etc.
• If you take over the counter medication, prescription drugs, herbal supplements, vitamins, etc.
• If you smoke, drink alcohol, consume tobacco, or you are a drug addict.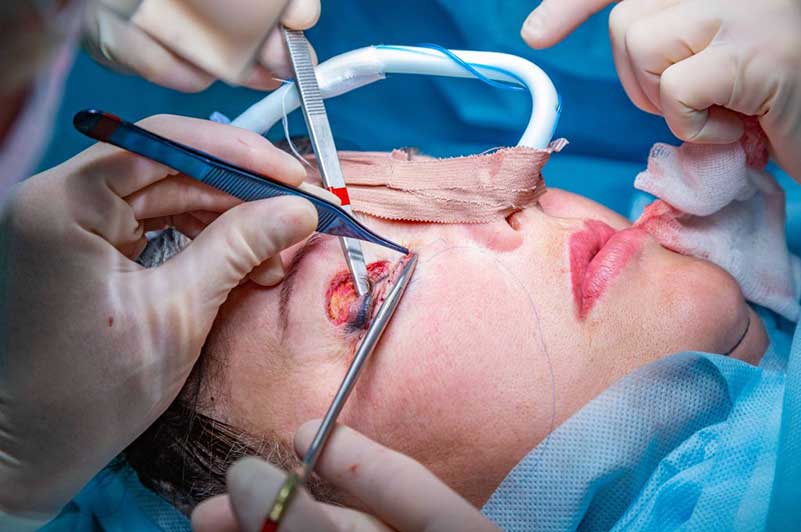 In addition, the surgeon and your eye specialist will also perform some tests to evaluate your candidature for the eyelid surgery:
• Physical test: It will include examining your tear production and measurement of your eyelids.

• Vision test: Your eye specialist will test your eyesight and more specifically, your peripheral vision. This will help in supporting your insurance claim later on if the need arises.

• Capturing Eyelid Photos: Your Blepharoplasty surgeon or his staff members will capture photos of your eyes from varied angles. These images will be helpful in various aspects of the surgery, i.e. planning, instant and long-term consequences, insurance claim support, etc.

The Don'ts

Your eyelid surgeon will suggest you to avoid doing certain activities as a precautionary measure prior to undergoing the procedure. These may include:
• No OTC Medications: Stop taking medicines like warfarin, ibuprofen, aspirin, and more. It is better to prefer only the medicines approved by the surgeon for this period.

• No smoking: Leave smoking many weeks earlier as it can affect your healing tendency after the operation.

• No driving: Don't drive on your own to and from the clinic, before and after the surgery; ask someone to help you out. If possible, request anyone to be with you, at least for the first night post surgery.

The eyelid surgery procedure in detail
Blepharoplasty surgery can accentuate the appearance of your upper or lower eyelids or even both. Performed on outpatient basis, you can be back to your home immediately after the surgery concludes. As a starting step, the surgeon decides the volume of fat, drooping skin or muscle he has to remove. This depends very much on the outcomes of the pre-operative analysis on the patient. The key factors to concentrate include the patient's:
• Facial muscle structure
• Bone structure
• Eyebrow symmetry

Steps for Eyelid surgery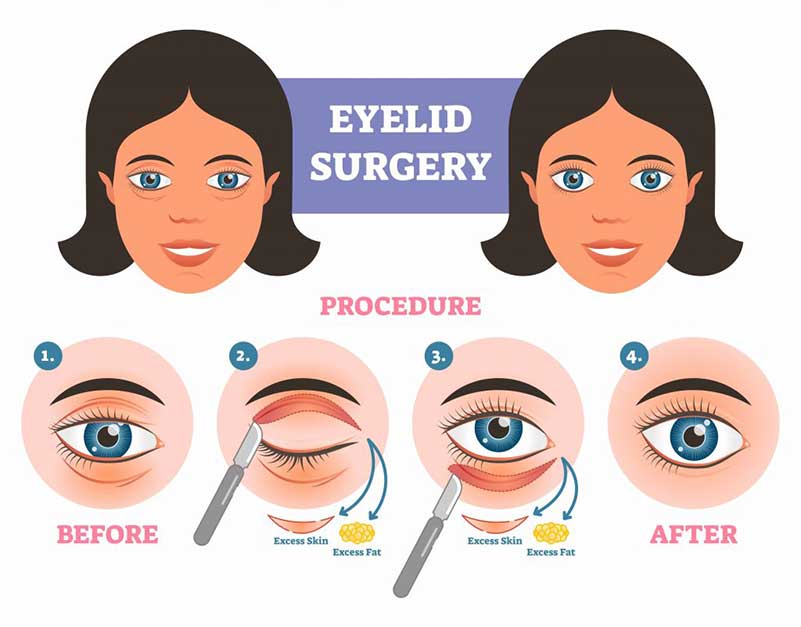 The surgeon executes a slew of steps as below to perform this surgery with acute precision.
• Anesthesia: To start with, the surgeon gives local anesthesia on the patient's eyelid.

• Marking: He marks the places in the upper eyelids and lower eyelids from where he has to remove excess tissues.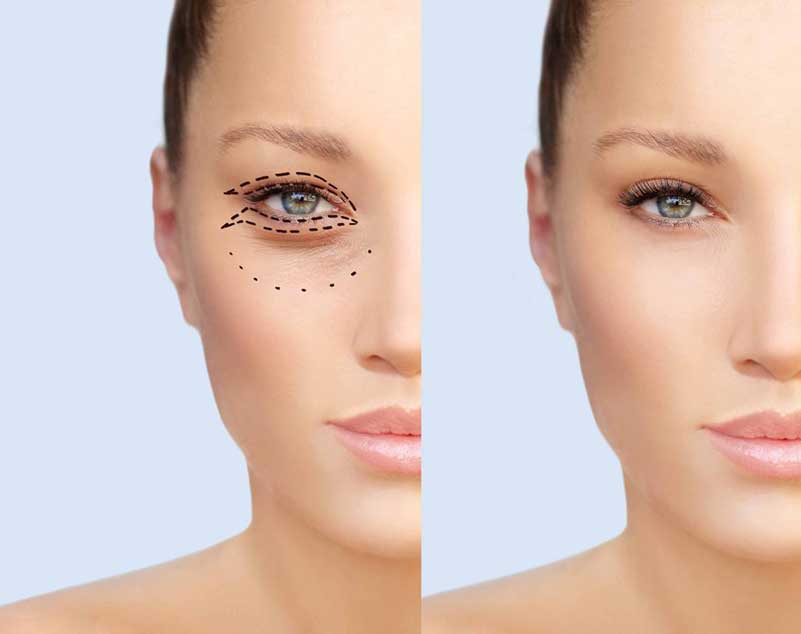 • Incision creation:
• For upper lid blepharoplasty, the surgeon will create an incision inside the upper eyelid's natural fold.
• While operating the lower eyelid, he will create an incision that hides beneath the lower eyelashes, on the lid's natural crease. The surgeon may use laser beam during this procedure to make the skin of lower eyelid tighter.
• Alternatively, he can also remove the excess fat by creating transconjunctival incision inside the lower eyelid.

• Tissue removal: The surgeon starts eliminating tissues from these incisions with the help of surgical scissors, RF cutting devices, scalpels, and other surgical equipment.

• Fat redistribution: To get rid of bulges or inflammations, he may redistribute the fat in the lower lids. Moreover, he can also think of alternatives to deal with special problems like muscle laxity.

• Beautification: Next, he will work to enhance the areas around eyelids and eyebrows by using tissue adhesives without leaving behind any detectable scar. He may also apply the self-dissolving and invisible sutures for better results.

• Care for special patients: If the patient has dry eyes, the surgeon will care to remove only limited tissues. This will avert more exposure of the eye to the atmosphere, hence saving the patient from the probable eye disease symptoms.

• Laser method: The surgeon may also use laser for blepharoplasty as it can treat the wrinkles generating in the eyebrow and eyelid appreciably.
Your insurance would cover the entire procedure if you are undergoing to improve your vision. But keep in mind that the insurance will not cover any cosmetic procedure, i.e., if the surgery intends at beautifying your appearance.
As for blepharoplasty cost, it varies as per the location and respective clinics. For example, as per a survey done by American Society of Plastic Surgeons in 2017, the average of eyelid surgery was a little above USD 3,000. Notably, this fee does not cover certain aspects like anesthesia, facilities given in the Operation Theater, etc. In India, the cost for both the lower lid as well as upper lid blepharoplasty may range somewhere around USD 1500.

Recovery period and after care
Depending on the patient's tendency, it takes around two to four weeks for him to recover completely from the surgery. This time is still short as compared to other cosmetic procedures.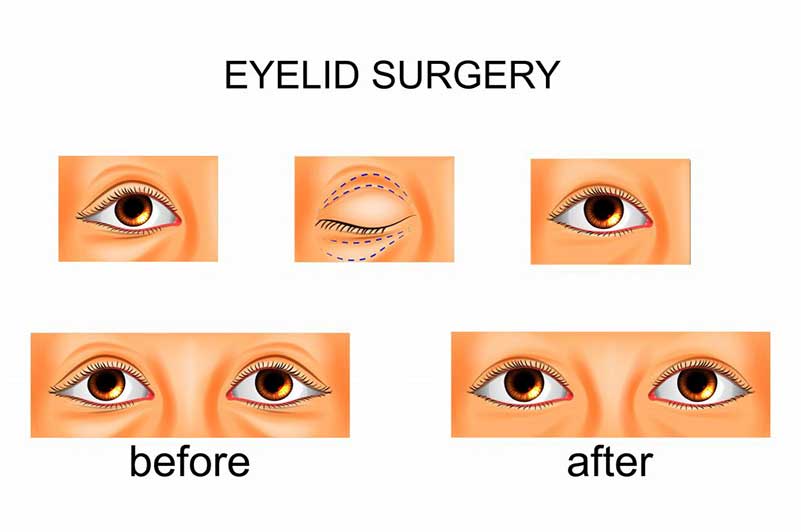 Immediate action
• Just after the procedure, the staff will take you to the recovery room where you will remain under continuous monitoring for any side effects or complications.
• If everything is normal, you may go back to home instantly.
• As the after effect, you may have to bear light sensitivity, blurred or double vision and excessive tearing just after coming out.
One to two weeks
• Take complete rest for around 1 to 2 weeks after the surgery.
• The surgeon may prescribe ibuprofen to deal the probable pain or swelling.
• He may also suggest applying ice packs to the eyelids for the next 2-3 days. Sleep frequently to avoid giving undue stress to your eyes.
• Activities like reading, watching TV, sticking to smartphone, putting on contact lenses, or using laptops/desktop are better to avoid, at least during the initial recovery period.
• Doctors recommend wearing dark glasses to avoid the irritation to eyes due to wind and sunlight during this period.
• You will have to visit the surgeon within 2 to 7 days after undergoing the surgery for evaluation and for removing the stitches accordingly.
• Most likely, you will be able to get back to your usual activities within 10 days of the surgery.
• If problems like chest pains, breathing troubles, bleeding, visual impairment, etc. prevail, it is advisable to seek immediate medical intervention.

The possible risks associated with Blepharoplasty
Surgical procedures are likely to accompany risk, and Blepharoplasty surgery is no different. As a silver lining, severe complications are less frequent in this surgery. Here are some of the associated risks:
• Hostile reaction to anesthesia
• Bleeding and infection
• Blood or flood clotting in the skin (Hematoma) that needs immediate removal
• Red, bruised and swollen eyes
• Allergy or itching around the eyes
• Faulty or blurry vision
• Dry eyes and problem in closing the eyes
• Muscle damage due to exposure to sun
• Scars on the operated area

Thankfully, you can avert all these complications if you abide strictly to the recovery tips suggested by your surgeon. Still, if any of these risks trouble your eyes post surgery, prompt medical intervention becomes inevitable.

How efficacious is the eyelid surgery?
Based on the type of anesthesia, the dexterity of the surgeon and the complexity of the procedure, the eyelid surgery may take somewhere around 45 minutes to 4 hours to complete. This duration makes way for a smooth, tight and ageless skin around the eyes that work towards removing your aging signs significantly.

Indeed, this one-time procedure is efficacious if performed with due precautions. But if you find unsatisfactory results, or if your eyelids are taking more than usual time for healing, a follow-up surgery is advisable.

At times, people undergo this surgery to support a related treatment as well for enhanced results. To cite an example, those with drooping and saggy eyebrows might choose brow lift surgery. Likewise, full facelift could be another option in addition to blepharoplasty to improve your facial appearance. In any way, this method is efficacious. It makes way for feasible and realistic results, but if you are expecting miracles, please do not go for it.

The final say
You may develop dark circles, have sagging skin, or accumulate excess fat with time. Often, droopy eyelids may create problems in your vision. All these ailments make you look much older than your actual age. Blepharoplasty is an effective procedure to get away with all such usual aging signs that get evident with your eyes. Indeed, blepharoplasty cost is an important consideration in this context. An experienced, cost-effective and board certified eyelid surgeon can help you in this regard. So do your search widely and select the best surgeon to spruce up your appearance and regain your lost confidence.