Is Breast Reconstruction Effective after Breast cancer surgery?
Breast reconstruction is the surgery performed in order to restore either one or both breasts and improve their shape, appearance, size and symmetry following breast cancer surgery , Mastectomy . Breast reconstruction means making a new breast after the original breast is removed during cancer remova. Breast cancer reconstruction helps in restoring beauty and confidence of woman after breast cancer surgery .

Breast reconstruction can involve a number of procedures performed in different stages, which can begin at the time of mastectomy or later.

Before operating you for breast reconstruction, your surgeon considers various important aspects, like your body type, cancer treatment and type of mastectomy.
Are you a good candidate for Breast Reconstruction?
Candidates for breast reconstruction would be women who:
•Are able to cope well with the process of diagnosis and treatment
•Have realistic goals for restoring their body and breast image
•Are in good overall mental and physical health
•Do not have serious illnesses or medical condition that can hinder the healing process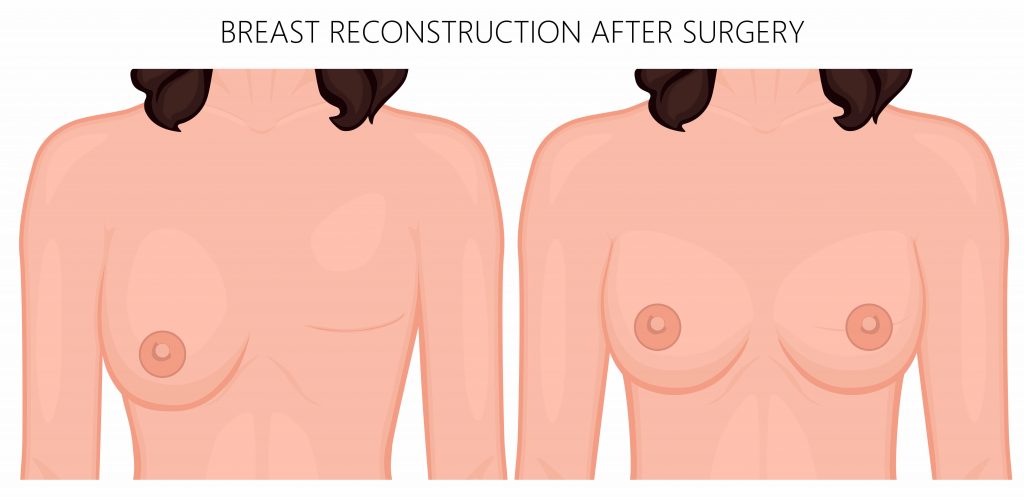 Breast Reconstruction Procedure/ Types of Breast Reconstruction
Depending on your general health, build, breast shape, your expectations and your radiotherapy reports (if any), the surgeon would recommend the most suitable type of operation. The patient gets general anesthesia or intravenous sedation for comfort during the procedure. Here are the techniques in detail.

1. The Flap Technique
The radiation therapy or mastectomy leaves behind insufficient tissue on the chest to support breast implant. In such cases, tissue expansion or flap technique becomes an essential need. The Tram flap uses the skin, fat and muscle from the lower abdomen of the woman for the procedure. The flap could remain attached to the blood supply and tunneled up through the chest. Alternatively, it could also remain completely detached and shaped into a breast mound. In case the lower abdomen has insufficient tissue, surgeons use donor sites like thighs or buttocks for extracting the same.

2. Tissue Expansion
Implant-based reconstruction is a great option for women who wouldn't like to have a separate donor site. Though tissue expansion offers quicker and easier recovery than other procedures, it can be a rather lengthy process. It requires visiting the doctor for nearly 1-2 months after placing the expander. It fills gradually with saline by using internal valve. At times, a second surgery will be a necessity in order to replace the expander, if it is not designed to serve as a permanent implant.

3. Placement of Breast Implant through Surgery
A breast implant can act as an alternative to the flap technique or can be an addition to that. During breast cancer treatments, surgeons can use an implant to act as a temporary placeholder until the patient is ready for further flap reconstruction techniques. Your surgeon will help you in deciding whether silicone or saline implant would be best for your breast reconstruction. Tissue expansion is generally required when reconstruction is done with an implant. For women with certain breast shapes and tumor characteristics undergoing mastectomy, direct-to-implant reconstruction might be a great alternative.

4. Breast Revision Techniques
Specialists perform breast reconstruction through a variety of techniques for women who cannot undergo nipple-sparing mastectomy to reconstruct the areola and nipple. The process involves folding the skin to create a nipple's shape and then tattooing it to make it appear realistic. One can use 3-D nipple-areolar tattoos to achieve a realistic appearance with the illusion of projection. It is possible to enhance the outcome of breast reconstruction by adopting several revision procedures. Liposuction with fat grafting is one such procedure that improves the symmetry and appearance of the donor site.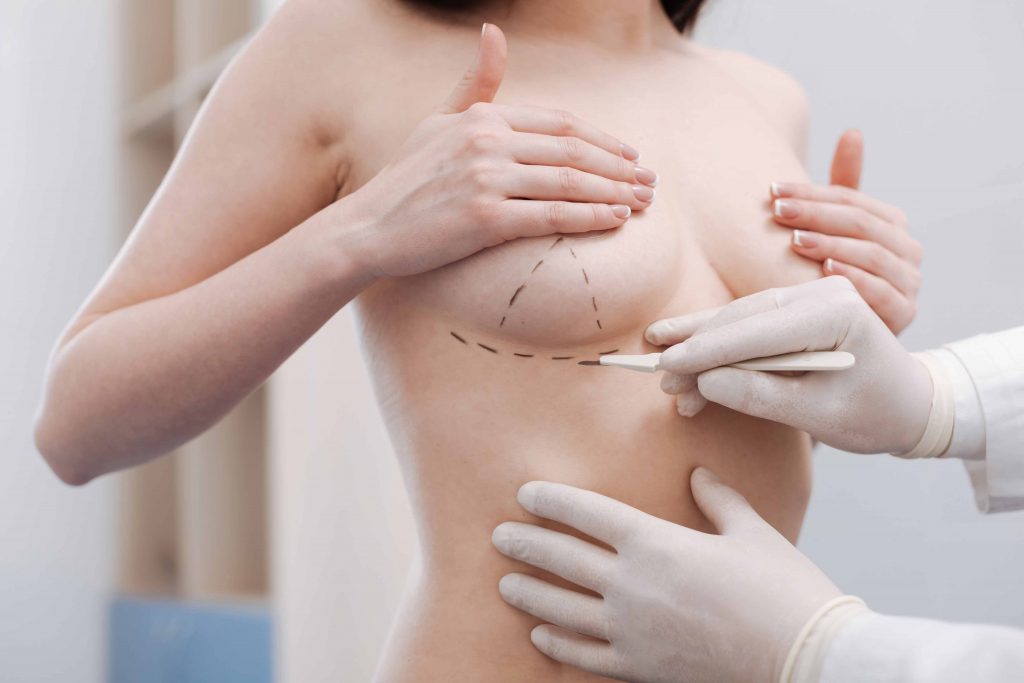 Things to consider before and after the surgery
You need to abide by following measures as a prelude to your breast reconstruction surgery.
•Go for a medical evaluation
•Stop smoking
•Ask your doctor about the medication to take or about adjusting the current medication
•Avoid herbal supplements or anti-inflammatory drugs as they can often increase bleeding

Ask your surgeon specific questions about your expectations during the recovery period:
•What medication will I be prescribed after the procedure?
•Will there be any drains? If yes, for how long?
•Will I have bandages after the surgery and when can they be removed?
•From when can I resume normal day-to-day activities?
•After how many days post-op can I take a bath?
•When do I have to return for follow-up care?
Be aware that healing is a long process and would continue for several weeks. The shape and position of the breast shall improve and the swelling will decrease with time.

Takeaway
There could be many reasons behind your decision to go for breast reconstruction. Maintaining esthetic appeal could be one such factor. Besides, women may also lose their curves badly due to congenital deformities or because of treatments like lumpectomy, mastectomy, etc. In any case, proper attention by an experienced cosmetic surgeon is a must to help you regain your breasts.

In cases where only one of the breasts is affected, the surgeon might recommend any one of the breasts be reduced- breast lift or breast augmentation surgeries for the opposite one. This will enhance the shape, position and size of both the breasts. Your surgeon would determine what would be best for you. If done with precision, breast reconstruction would surely enhance your breasts, hence ensuring you that feminine appeal yet again.