Painless Way to Get Rid of Body Fat- Non-Surgical Fat Reduction
For people who have trouble controlling their body fat and want a nice figure without worrying about the scars on their body, non-surgical fat reduction is the best solution for them. With the advanced technology,the process of non-surgical fat reduction helps to get rid of excess fat deposits with minimal invasion to break down the fat tissues in the certain areas.
HOW IS IT BENEFICIAL?
If you are unwilling to go under knife and exercise is giving no actual results, then this process can be beneficial for you.
Tighten the skin around stomach, thighs, and other body parts along with reducing stretch marks.
Get rid of double chin to improve the facial structure.
Get rid of love handles and smoothen the skin
Reduce cellulite and it is also beneficial for vaginal rejuvenation.
To make sure that this procedure gives effective results, it is essential to take care of a few things. Firstly, the candidate should have realistic expectations and manageable body weight to get proper contoured physique after the treatment. A full body analysis is must to avoid any complications; the patient should also disclose his/her medical history or any condition that might affect the outcomes of the procedure.
METHODS OF NON-SURGICAL FAT REDUCTION
Cryolipolysis- Cryolipolysis is a fat reduction process that uses cold temperature to break down the fat tissues and remove them from the body. A panelled device is placed on the target area to freeze the fat cells to effectively remove them. It helps to reshape the body without any cut or scars.
Find a Plastic Surgeon in Your Area
Find Top Surgeons in India by Procedure
Find the Cost of a Procedure
Injectable Deoxycholic Acid- This procedure makes use of Deoxycholic acid produced by human body to reduce the body fat for faster digestion if injected directly. This is the most suitable method for reducing double chin and it needs very less down time.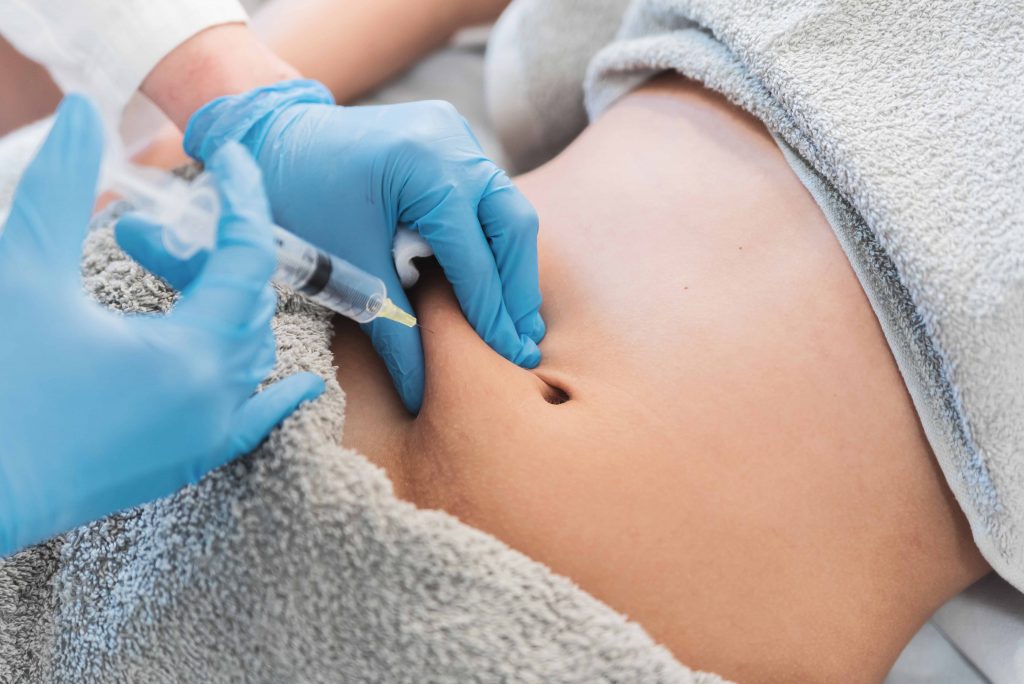 Methods of Nonsurgical Fat Reduction
Laser Treatment- This type of solution requires heat energy produced through laser wavelength to break down the targeted fat tissues. The heat concentration helps eliminate the fat cells and simultaneously, a cooling technology is used to protect the skin from getting damaged by excess heat. This laser therapy is commonly used on abdomen areas.
Red Light Therapy- It is a newly approved technique from FDA for painless fat reduction. This improved technology uses red light generated from specific lamp to eliminate fat tissues from the concerned area. This red-light target fat cells to shrink them in size by releasing some of its component which is easier to remove; thus, giving the quick and efficient results.
Ultrasound Fat Reduction- Under this procedure, the effective sonic waves are used to break down the walls of fat cells. After the reduced size of fat deposit, the ultrasound energy transmits through the skin by rapid pressure changes, thatfurther helps in breaking down the fat cells and removing them from the body. This method is a good option to use on the areas of abdomen and flanks.
THINGS TO BE CAUTIOUS ABOUT
Although this procedure has effective and long-lasting results, it is essential for the patients to be able to maintain their body weight after the treatment. The recovery period is relatively small with minimal side effects. In rare cases, the treated area might need timely massages.
The drawback of thistreatmentis that it is not suitable for overweight person. Treatments like Kybella to treat chin fat are strictly prohibited for expectant mothers. The heat produced through radiofrequency can be unbearable for few.
In the conclusion, the process of non-surgical fat reduction gives effective results without the risk of scars if the patient is not overweight and has realistic expectations. It is advisable to consult with a qualifieddoctor to know if this procedure is suitable for your body.