Give Your Skin A New Life With Laser Skin Resurfacing!
To get a youthful and flawless skin, there are million things and routines that can be followed but they do not often work for everyone. For people with skin problems like acne, wrinkles, dull skin, and suntan etc., an easy solution to get rid of such problems and get glowing young skin is Laser Skin Resurfacing.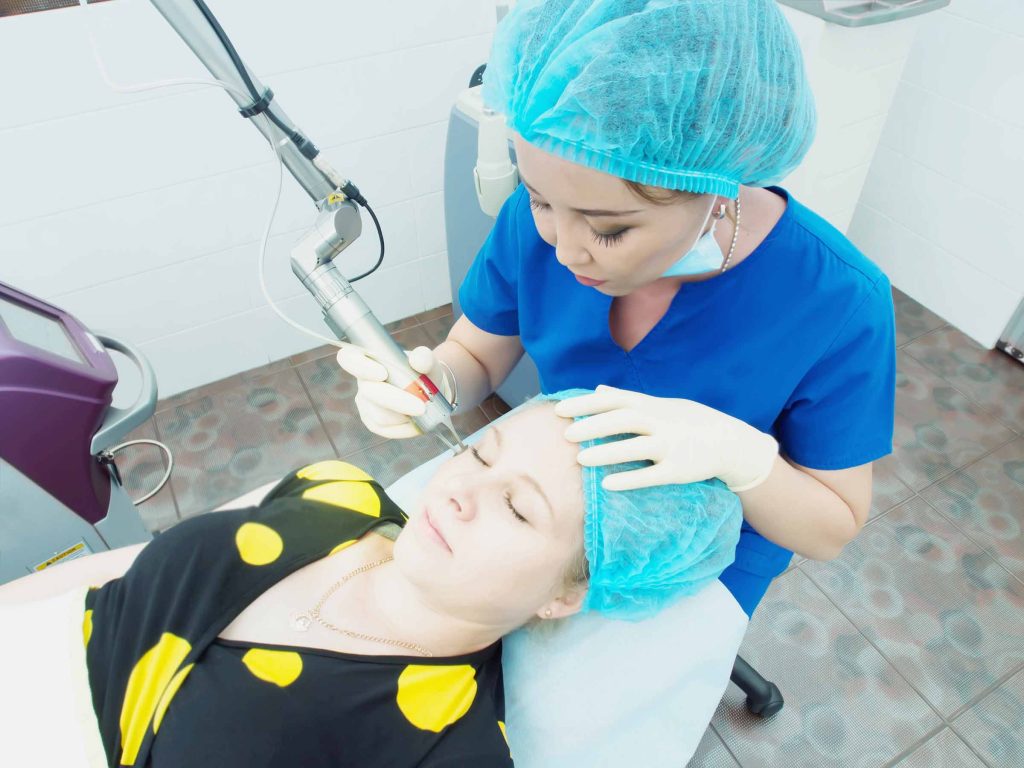 It is a cosmetic procedure under which the skin of the patient is removed layer by layer to uncover the skin underneath which is more youthful and tighter. There are two kinds of laser that can be used for this process- Carbon di-oxide and Erbium.
Carbon di-oxide Laser Skin Resurfacing-It is the most common laser treatment used to cure skin problems, such as scars, wrinkle, warts, oily skin area around the nose, etc. This procedure uses tiny pulsed light energy called ultra-pulse to be concentrated on the specific area of the face to remove the outer layer and to reveal the skin underneath. This process takes upto 2 weeks to recover and the effects of heat concentration on the skin to subside.
Erbium Laser Skin Resurfacing-This procedure is highly recommended for people with dark skin tones and is beneficial for treating moderate deep lines on the areas like face, neck, or chest. This method also has faster recovery period as compared to the process of carbon di-oxide laser skin resurfacing.
Find a Plastic Surgeon in Your Area
Find Top Surgeons in India by Procedure
Find the Cost of a Procedure
HOW THE PROCEDURE OF LASER SKIN RESURFACING TAKES PLACE?
The first step in getting a bright glowing skin through laser skin resurfacing is to consult with a certified professional and discuss about the expectation from the treatment and the possible outcomes. It is best to be genuine and clear about any health issues that you might have by disclosing your medical history.
Laser Skin Resurfacing Procedure
The laser skin resurfacing is beneficial for treating minor scars and if you experience problems like severe acne, cold sores, or any other skin disorder, then you are suggested to consult with a dermatologist first. It is also advisable to quit smoking two weeks prior to the treatment.
This process takes upto 30 minutes to 2 hours, depending on the concerned area and its intensity. The doctor will use local anaesthesia to numb your skin and use protective gear to protect the eyes from light emission. Once the anaesthesia takes effect, the expert will start the procedure.
WHAT HAPPENS AFTER THIS PROCESS?
After the treatment, you are immediately free to leave the clinic, but your skin will take 2 to 3 weeks to heal. The skin will be swollen and red for a while and in extreme cases, it might leave blisters and itchy skin. After 5-10 days, you will notice your skin getting lighter and after a while, it will become dry and peel off. The doctor will advise you to avoid wearing heavy makeup and to always use sunscreen while going out.
If you are looking for quick fix for mild skin problems, then Laser Skin Resurfacing would be the appropriate solution for you. It can help you to treat fine-lines and light scars to get younger looking skin. This treatment is beneficial for you as long as you have realistic expectations.